---
---
The 2017 Trail Summit is On-Line!
The 2017 Philadelphia Western Suburbs Trail Summit on February 25 was well attended and highly informative. Held at the Community Center building at Haverford Reserve, this 5th annual summit presented a packed schedule of regional overviews and detailed local reports from a good number of municipalities in Delaware County, plus Lower Merion. It was hosted by Haverford Township's Department of Parks and Recreation, working together with the Friends of Haverford Trails.
Through the cooperation of the township and our presenters, you can watch a video of the entire 2017 summit and view the slide sets used by the various presenters. Click here for links to the agenda, video and presentation materials.
---
---
Welcome to useful information on bicycling and walking in Haverford Township, Delaware County, Pennsylvania, provided by the Friends of Haverford Trails. Our township boasts over 15 miles of walking and jogging trails open for your use, and they are documented here. You will also find information for savvy bicycling in Haverford Township for people of varying abilities. This includes maps of "bike-friendly" roads, based on an analytic rating of our major roads for their suitability for cycling. We include handy back routes, shortcuts and other little-known tips that make cycling safer and more enjoyable, including Haverford's designated on-road Bike Route across the northern edge of the township to Haverford Reserve.
| | |
| --- | --- |
| | Join us! Show your support for improved bicycling and walking provisions in Haverford Township. Stay in touch with our news posts, organized rides and walks, and more. Simply go to our sign-up page and sign up. You can also follow us on Facebook at www.facebook.com/havtrail. The Friends of Haverford Trails is a task force of the Haverford Township Civic Council. |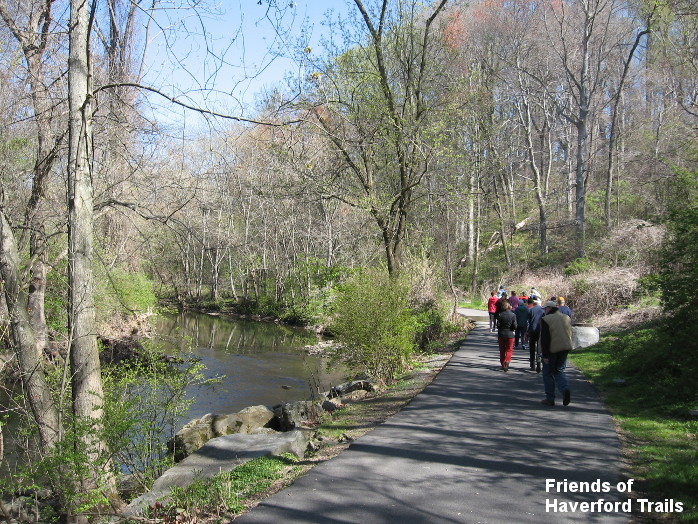 Haverford Heritage Trail

Explore, exercise and enjoy on this 14 mile loop tour around Haverford Township, which combines various neighborship streets and off-road trails into a trip through our local history. You can walk or bike the Haverford Heritage Trail past more than 30 historical sites in the township. Click here.

Walking Trails in Haverford Township

We are fortunate to have walking and jogging trails in every corner of Haverford Township. Everyone living in Haverford has a trail no more than a mile away from his or her home. For a summary map and overview, with further links leading to more details, click here.

Bicycling in Haverford Township

Learn about bicycling information, online "bike-friendly" road maps, and infrastructure improvements, including safety shoulder striping and bike parking facilities implemented in Haverford Township. Click here.

The Five Campus Bike Route

Our effort to create a workable bicycle route between "sibling schools" Haverford College and Bryn Mawr College grew into a concept for a "Five Campus Bike Route" that also includes Harcum College, Rosemont College and Villanova University. Click here to see it.

Plans and Studies

Here you can find and read studies related to bicycling and trails in Haverford Township. These include Delaware County's Bicycle Plan and its Open Space, Recreation and Greenway Plan, as well as the Valley Forge - Heinz Refuge Trail feasibility study. Click here.

The Circuit Trails

Greater Philadelphia is the proud home of the Circuit Trails, a vast regional trail network, composed of hundreds of miles of interconnected trails, that is growing in size each year. One of America's largest trail networks, the Circuit is currently composed of more than 300 miles of completed trails with a vision of completing 750 miles of trails across the nine-county region in Pennsylvania and New Jersey. Nearly 65 nonprofit organizations, foundations and agencies are working to advance the completion of the Circuit Trails. A premiere regional amenity, the Circuit Trails connect people to jobs, communities, parks and waterways. Learn more at www.circuittrails.org.
---
Interested in information on Marple and Newtown townships?
Go to marplenewtown.havtrail.com
How about Upper Darby Township and Landowne information?
Check out upperdarby.havtrail.com
---